Protecting your Hands from Cold
Nothing like frozen and painful fingertips to ruin an outdoor photo trip in cold temperatures and take the fun out of it! I have learned from many nights out hunting the northern lights.
Hand protection: never exposing your fingers is key.
Find gloves thin enough that you never have to take them off to change camera settings, batteries or memory cards, and use your tripod. I have tried many gloves, combination of gloves, even cut a couple of tips on some gloves (and spent way too much money!), until I found thin and warm gloves at my local hardware store – yes, hardware store… They are thermolite liners and cost under $10. That's all I wear to about -10°C (14°F). These glove liners are thin enough that I can also keep my hands in my pocket between shots. When it gets really cold, I wear mittens over them and add heat warmers in the mittens if needed. My mittens are big enough for stuffing the shutter release cable in. When needed, I remove the mittens (attached to my jacket), changes settings, put my hands back in the warm mittens and keep shooting.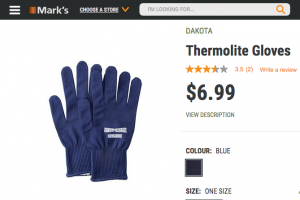 Photo gear: never touching metal parts with bare fingers.
Wearing gloves at all time is the best protection for you so you don't touch really cold metal with bare hands. Cameras, lenses, tripod head and legs most likely have some metal parts.
There isn't much you can do to protect your tripod. The head has to be accessible and so is always exposed. Metal and aluminium legs will get colder than carbon fiber. Having some protection on tripod legs is useful. If your tripod does not come with protection, foam pipe insulation is commonly used to insulate tripod legs.